News and Announcements
Sharing new initiatives, best practises and news from the world of green.
Please visit often to see what vital new information is being shared by the PVMA board and staff with their ever-growing membership. If you have an announcement for your fellow Vegetation Professionals, contact our office to be included.
NOTE: This space is not to solicit business for your company in any way but to share news and best practices with other industry professionals.
112/06/2019
The Newest edition is now available. See it online here.  Be sure to take note of the new advertising rates for 2019 so you can take advantage of a full year. 
12/06/2019
Fall Seminar and General Meeting
October 23, 2019 in Red Deer, venue TBD
PVMA DIRECTORS UPDATE & MEETING
Keep wathing for more details.
PVMA Unveils its Newly Redesigned Website
09/26/2017
Our association, in partnership with webs designer, Industrial NetMedia, have created a new interactive website with a member-fed Job Board and opportunities for PVMA member companies to advertise their business on our website. Browse around and discover all the new content and let us know what you think via our Contact Page.
Dow AgroSciences Features Bonus Video on Turning Barley into Beer
06/24/2016
PVMA member, Dow AgroScience has shared a terrific video that details the process of converting boring old barley into something you'll want to party with. Check it out here.

Knowing Green. It's Our Nature.
Member Announcements
-

STOPDED Seminar: For Healthy Trees... 




Posted: Jul 11, 2019

For Healthy Trees, Your best defence is a good Offence

This 1 day course is being presented for those in the Arborist industry.

Information and registration forms can be found here.
-

New Code of Conduct released by the Canadian Council on Invasive Species 




Posted: Jun 13, 2019

The Canadian Council on Invasive Species, along with several key partners are excited to launch a new National Voluntary Code of Conduct (available in English and French) for the ornamental horticulture industry. TheNational Voluntary Code of Conduct supports the Canadian Council on Invasive Species' Be Plant Wise program. The goal of the Be Plant Wiseprogram is to support and recognize responsible leaders in the horticulture industry who adopt best practices to avoid the introduction of high-risk invasive plants to specific regions.
 
To read the full press release, click HERE.
 
-

UTT/UTW Re-certification Course  




Posted: May 30, 2019

UTT/UTW Recertification Course

November 14-15, 2019

at Olds College
-

The Vegetation Manager 2019 May Digital Edition 




Posted: May 09, 2019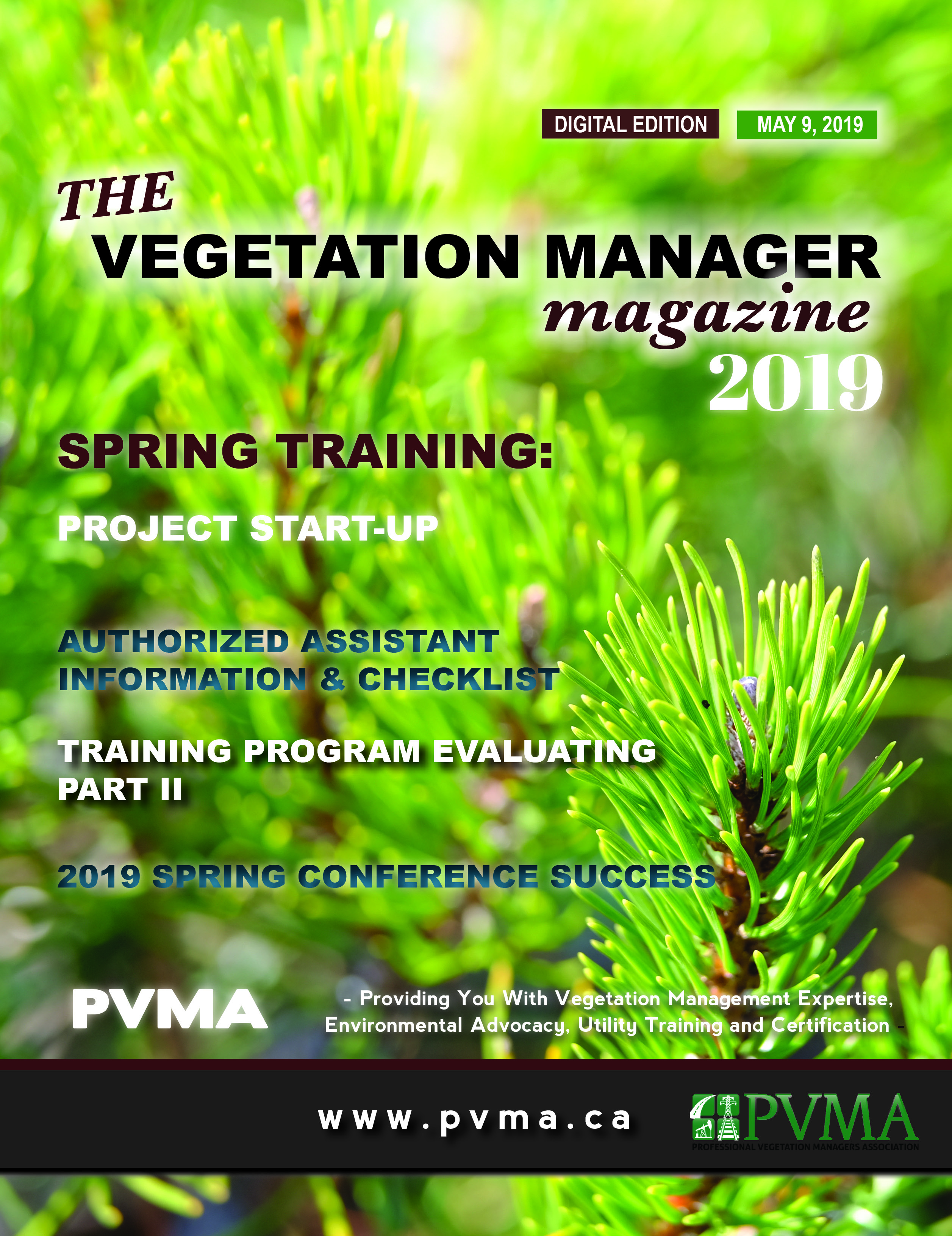 The Vegetation Manager 2019 May Digital Edition is now available.
-

SAVE THE DATE! 




Posted: Apr 01, 2019

SPRING CONFERENCE 2020 in Red Deer, Alberta

Keep watching for more details.
-

PVMA Fall Work Shop 




Posted: Mar 14, 2019

SAVE THE DATE;

Fall workshop will be in Red Deer October 23, 2019 

Stay tuned for more details.